Youth Specialties Blog
By Youth Specialties on October 21 2014 | 0 Comments
Jared Kirkwood taught a great seminar at NYWC Sacramento called "The Farm League: Intentionally Developing Leaders" (check out the audio for it HERE) and he wrote the following post as a quick-look at some of the ideas he covered.

We are grateful for the original pic from Drew Herron.
I spent my high school years in Las Vegas. One of the unique things about that city is that it doesn't have a professional sports team. So, being the avid baseball fans that my friends and I were, we were forced to root for the Las Vegas Stars (now the 51s). While the minor league's level of play was not nearly that of MLB, the games taught me a lot about the intentional development of people because the Stars were a feeder team to the Dodgers and Diamondbacks. At every game, my friends and I felt like we were on the front edge of someone's career!
The kind of development that I observed from the Stars has stuck with me, and in my current youth ministry calling, I wonder: When we consider the great vision and mission of the church, why would we consider our opportunity to develop volunteers any different?
Volunteer leader development does not happen by accident. We must intentionally develop the key leaders that God has placed in our midst to give ourselves the best chance at making an impact in our cities, local schools, or neighborhoods in the name of Jesus. We must coach, mentor, and develop our volunteer "teammates" in a strategic way.
With that in mind, I've come up with a way to think about building our teams, in 4 simple steps: identify, discover, equip and empower.
IDENTIFY
The battle is won or lost in the selection process. This means if you identify the best people, the rest of the journey is an absolute joy to watch as volunteers step into the calling God has placed on their lives. If you're less tuned in to the people you choose, there is a good chance that you will be exhausted and the rest of your team will be dragged down with them.
But who are the "right" volunteers for you? They're called by God, fit your church and team, and will live out your church's values.
DISCOVER
There is nothing greater than serving God out of our gifts and passion. When you're looking for the best volunteers for your ministry, take time in the interview to ask them, "When you wake up in the morning, what gets you excited? When you lie awake at night, what are you dissatisfied with? And what life experiences have made you who you are today?"
Great leaders call others to serve from their identity in Christ, one that has been formed from their gifts, passion, and life experience. When we pause to look for this kind of self-awareness, we not only gain lifelong volunteers, but we also create a ministry where exponential life change is taking place.
EQUIP
In order for your volunteers to do what you need them to do, what do they need to know and who do you need them to be? Clearly there is a skill and task conversation that needs to take place, but I am more interested in equipping our volunteers to be core contributors to the culture we're creating in student ministries. Leadership is doing and being, so we must teach our teams to live out our cultural values on a daily basis.
Simply put: The culture you create with your volunteer team will overflow into your student's lives.
EMPOWER
The difficult task of releasing ministry to key volunteers brings out our greatest fear: If I let go, I won't be needed anymore. This scarcity mindset will drastically limit the amount of life change your ministry will see. If you have adequately walked the long, relational road of volunteer leader development, releasing the ministry to your team is the greatest gift you could ever give them.
TAKE YOUR FIRST STEP, TODAY!
Here are some practical steps to help you in each component.
Identify: Memorize your vision, mission, and values so that you know a key volunteer when you see them. Create a recruitment strategy to reach new people beyond your network.
Discover: Sit down with each of your current volunteer team members and ask the questions listed above. Watch how they light up at the interest you are taking in them. Now, how can you tap into that passion for the ministry?
Equip: List out the skills necessary for a leader to be on your team and then the culture you hope to create in your ministry. What culture are you creating and allowing?
Empower: Who are the 1 or 2 people on your team who you could hand over significant pieces of the ministry to right now? What's stopping you?
The healthiest version of your youth ministry is one that can thrive beyond you. This process of leader development about recognizing that our ministry is not built on us, but on the team Jesus has called for such a time as this. Leadership is people development. When we choose to intentionally develop our volunteers, we will see significant impact in the people we serve.
What are you doing to ensure life-changing ministry is taking place through your volunteers long after you are gone?
---
Jared Kirkwood has been in full-time youth ministry for 10 years and is the high school pastor at Mariners Church in Irvine, CA. He holds a Master's of the Arts in Global Leadership from Fuller Seminary, teaches about leadership wherever he can, and oversees the program development of the Mariners Church Leadership Pipeline. Check out more of his blog posts at JaredKirkwood.com and download the audio from his NYWC Seminar, "The Farm League: Intentionally Developing Leaders" HERE.
Hear more speakers just like Jared at the National Youth Workers Convention in Atlanta! There's still time to join us!
By Youth Specialties on October 21 2014 | 0 Comments
---
By Youth Specialties on October 19 2014 | 1 Comments
We are so fortunate to know youth workers like Coby Cagle that are doing great work in youth ministry and are willing to share guest blog posts like the one below.

Grateful for the original photo by Carasc6.
Even though summer just ended, it's already time to start planning for next summer's mission trip. Poor planning can turn a sweet mission trip sour very quickly. To help you get started on the right track, I've compiled a list of questions that you should answer in order to plan a mission trip. (Need more guidance? Try reading my previous post HERE on the necessity of cultivating a healthy mission trip purpose and posture before you start on these questions.)
1. Where are we going?
In his book The Monkey and the Fish, Dave Gibbons asks three questions that I think can be used to help answer this question. Where is Nazareth (i.e. Where are the marginalized?)? Where is my pain? What's in my hand? If you choose to use an organization to organize your trip for you, skip to question 7, How much should I charge?
2. How will we get there?
Check your church's insurance policy to confirm the type of vehicles you can drive and the age requirement of drivers. When traveling with large groups, research restroom stops that can handle the traffic. Also, ensure that each van has a small first aid kit and a fire extinguisher.
3. Where will we sleep and shower?
Check with area churches to see if your kids can sleep on the floor for free. Ensure that the building has adequate arrangements for co-ed groups. If the building doesn't have a shower facility, find a local community center or public pool.
4. What will we eat?
Find a volunteer to coordinate the meals. Make sure you have two snacks scheduled in addition to the standard meals. If you don't have a kitchen, consider providing continental breakfasts, sack lunches, and alternate going out for dinner with meals you can grill at a park. I use the food planning chart from Youth Specialties to help plan portions.
5. What will I teach?
Your programming will be birthed out of your purpose, your posture (again, see my last post HERE ) and your responses to Dave Gibbons' questions. Ensure that the participants are learning about the context in which they are serving in addition to the biblical themes for the week.
6. What will we do?
Coordinate work projects with local agencies that are addressing the needs of "Nazareth" in a healthy manner.
7. How much should I charge?
Try using the spreadsheet I use to determine how much I need to charge per student (grab it HERE).
8. What leaders will attend?
I try to have a 1 to 7, adult to kid ratio on my trips. Prepare your leaders mentally, emotionally, and spiritually for the trip.
9. How will you promote the trip?
Start visioning for your trip 15 months in advance. Announce the trip as soon as the previous one is completed and keep marketing it during fall programming. Start the registration process in January or February to ensure that you have enough time to raise funds.
10. What else do I need?
Make sure you have a large medical kit and a person on the trip who can administer medications. The form that I use (grab it HERE) gives permission and instructions on medications. Tell a handful a people to take plenty of photos. Finally, make sure you fill out a post-event form so you can learn from the experience (view mine HERE).
The good folks at FPC San Antonio gave me permission to share an excellent event planning worksheet that they created. I use it to help my interns plan events. It provides structure around many of these questions. Check it out HERE!
Just to make sure you didn't miss any of the documents I mentioned above, here's a quick review of those four again:
- Mission Trip Budgeting Example - CLICK HERE
- Medication Permission form - CLICK HERE
- Post Event Recap Form - CLICK HERE
- Event Planning Form - CLICK HERE

---
Coby Cagle lives with his wife and two kids in Seattle, WA. He is the Youth Pastor at Quest Church and you can follow his meanderings on faith, family, and life at caglejourney.blogspot.com/.
By Youth Specialties on October 19 2014 | 1 Comments
---
By Jacob Eckeberger on October 16 2014 | 0 Comments
Every Friday we pull our favorite links from across the inter-webs. This week's trending links include a great perspective on working with students on the autism scale, looking at the power of storytelling in youth ministry, thoughts for volunteering well, and plenty of fuel for your procrastination.
Blogs From YouthSpecialties.com This Week
Josh Griffin (@JoshuaGriffin) shares some of his best youth ministry ideas - CLICK TO VIEW
We gave a recap of our favorite moments from NYWC Sacramento - CLICK TO VIEW
Blogs From Other Great Youth Workers This Week
Julia Wilburn shares a great post about ministering to students on the autism scale: "Wandering Arcade" - CLICK TO VIEW
Morf Magazine posted a great look at how storytelling connects with students: "The Power of Storytelling in Youth Ministry" - CLICK TO VIEW
Rob Trenckmann (@RobTrenckmann) wrote a helpful reminder: "4 Essential Questions About Risk" - CLICK TO VIEW
Bill Nance (@BillNance79) put together a great post you can forward on to your volunteer team: "Two Thoughts For Volunteering Well" - CLICK TO VIEW
The good folks over at @YMManagement passed along this great find: "7 Things You Need to Stop Doing to be More Productive" - CLICK TO VIEW
Fun Things To Fuel Your Procrastination
Rediscovered slides show victorian era folks knew how to get silly in front of the camera - CLICK TO VIEW
Jay Cutler's left handed pass hits ref and this guy added a Homer Simpson laugh - CLICK TO VIEW
A 1200 pound pumpkin gets dropped onto a van - CLICK TO VIEW
The best/weirdest way to end a jazz tune - CLICK TO VIEW
A Kid strikes some diva poses on live tv - CLICK TO VIEW

By Jacob Eckeberger on October 16 2014 | 0 Comments
---
By Youth Specialties on October 15 2014 | 4 Comments
Today is the National Youth Ministry Networking Day!
All over the U.S., youth ministry networks are gathering today for a time of prayer, encouragement, and connection. We are so excited to have been able to co-host a special part of NYMND with a live-stream webcast with Doug Clark and Wayne Morgan from the National Network of Youth Ministries. You can rewatch the live-stream HERE or in the video below...
---
Now that the live-stream is over, here are some simple ideas Doug Clark put together to help continue the conversation with your youth ministry network gathering...
Pray for each other.
Pray together in small-groups, one-on-one, or altogether. Share simple requests and pray for each other's needs. This builds trust. How about trading business cards and praying for the person whose card you have until your network meets again?
Pray for the teenagers in your community.
Lift up the needs of students by name. Pray for each school you serve. This focuses your network outward.
Pray for your network's future.
Ask God to direct you how you can be better together. Don't let today be the only day you meet!
Discuss what's coming up that everyone needs to know about.
Be sure to mention upcoming events that are important for all the ministries represented in the group. Have a table for those who have brought fliers for an event so that everyone can grab the information but don't use the whole time making announcements.
Discuss a youth ministry topic that might make you a better youth leader.
You might be the best resource for someone else in the room! Pool your wisdom about working with parents (or your senior pastor), balancing your life/ministry, curriculum ideas, working with your volunteer leaders, getting access to schools, etc.
Hang out!
As your schedule allows, either where you are meeting or at Starbucks or a restaurant, spend some time getting to know each other. Life is about relationships. You need each other, and you're better together!
Plan to meet again.
Don't be a one-hit wonder! Most local networks around the country meet about once a month. Before you leave, have everyone agree on when and where your next meeting will be, and put it on their calendars. Will you have food? Who will lead? Suggestion: pick 2-3 people as a "lead team" to plan the details. Get everyone's contact information before they leave.
For long-range planning, check out Mike De Vito's article, "Eleven Good Meetings".
Put your group on the map!
Before you're done today, have someone register your group at YSNetworks.com and Youthworkers.net. It only takes a few minutes, and it will allow Youth Specialties and the National Network to serve you better.
Remember, YS and NNYM are co-sponsoring "Build a Healthy Network" – a free one-hour webinar – on October 23 at 1:00p Eastern time. Go to YSNetworks.com or youthworkers.net/training to learn how to sign up.
---
By Youth Specialties on October 15 2014 | 4 Comments
---
By Jacob Eckeberger on October 15 2014 | 0 Comments
Our hearts are still overflowing with encouragement from our time with youth workers at the National Youth Workers Convention in Sacramento. From October 2-5, about 2,000 youth workers poured into the Sacramento Convention Center for a weekend of prayer, inspiration, and seeking out what God might be illuminating in our hearts and in our ministries. Here are some highlights that are still resonating in our minds this morning…
Intensives kicked off Thursday afternoon with hundreds of youth workers talking through complicated topics like helping hurting kids, how to connect with students that have tough questions, walking with LGBT youth, building a healthy family and a healthy ministry, youth ministry management tools, thriving in your first two years of ministry, and helping students find a faith that lasts.
Thursday night, Mark Matlock shared 5 Reasons Why the Church Needs Youth Ministry. In those times of doubt, when you're wondering if the countless hours you're investing in the lives of students and families matter, you have to keep in mind just how important students are to the church and the impact they have on the body of Christ, Mark reminded us. If you weren't there, here's a link to another time when Mark shared the same 5 Reasons.
Then, the schedule kicked into full gear on Friday and included the first round of seminars, Idea Lab interviews, and family room gatherings.
Patrick Lencioni shared some incredible leadership insights during the Big Room Friday Night. He challenged us to remember our responsibilities as leaders, how a healthy team includes difficult stuff like vulnerability, honest disagreements, and strong accountability. He made a great point that leaders have to love their teams enough to hold them accountable to their work. If we don't, we're missing opportunities to help our teams grow.
Brian Wurzell's team and our crew behind the sanctuary and chapel spaces did an amazing job leading us in worship all weekend, creating room for us to reflect and respond to every moment of NYWC.
Saturday morning, Kara Powell reminded every youth worker of the dangers of exhaustion, saying that "exhaustion is the new status symbol of youth ministry." There are so many good things that we can spend our time on, but the reality is that we can't do all of them. We will eventually have to turn down opportunities and block out times in our schedule to refuel, or we'll kill ourselves and our ministries. Every time we say "yes" to something, we have to be OK with saying "no" to something else.
All throughout the weekend, Crystal Kirgiss kept asking youth workers why youth ministry matters and what new, different ideas they had for involving youth in vital ministry. As always, the responses were remarkable and included some profound insights from participating youth workers.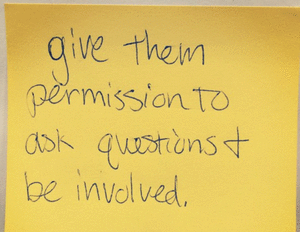 Francis Chan unpacked one simple question for us Saturday evening… What if our ministry was simply known for knowing Jesus? Francis reminded us that Jesus was the only one able to bring the dead to life. There is no game, program, dynamic speaker, or amount of pizza that can bring life to our students. This gave us so much hope, reminding every youth worker that no matter what limitations our ministry might have, if we work diligently to be known for knowing Jesus, God will do miraculous things in the lives of our students.
The late-night options continued Saturday night with amazing stuff like a live Download Youth Ministry Webshow and the powerful presentation of Laughter Is Sacred Space from Ted Swartz, which shared the struggles, heartache, and the ultimate hope found in the story of Lee Eshleman's life with bipolar disorder.
Sunday morning, James White wrapped up our Big Room sessions with a message about the hope we find in the lonely hours. When Jesus felt the weight of his calling, praying in the garden of Gethsemane for another way, he was experiencing a lonely hour. In the midst of our own lonely hours, Christ meets us there, he suffers with us, and he shows us that he never gives up on us. Every youth worker took a deep breath, remembering once again that Christ shows up to be with us even in our darkest moments.
If you were with us in Sacramento, it meant the world having you a part of this special tribe of youth workers and it would not have been the same without you. It is difficult to capture everything from a weekend like NYWC, but you'll enjoy some reminders in this short recap video.
If you're planning to join us in Atlanta, we can't wait to be with you, pray with you, and be encouraged alongside of you and your ministry. Haven't signed up yet? There's still time! Check out all the info for NYWC Atlanta HERE.
By Jacob Eckeberger on October 15 2014 | 0 Comments
---
By Youth Specialties on October 12 2014 | 0 Comments
In this YS Idea Lab, Neely McQueen interviews Josh Griffin about his 10 best youth ministry ideas from DYM. Even though they try really hard to get to all 10, they only hit 5... BUT those 5 are awesome ideas!
]
If you don't have time to watch all of the video, here are the highlights:
1) "Fact or Fiction" apologetics series with guest speakers in their entry level program that addresses tough questions about Christianity.
2) "You Own The Weekend" is a completely student led weekend of youth ministry services.
3) "Insta-Life" series that utilizes instagram and pulls out some key talking points that relate to our spirituality.
4) Have students buy pizza for the janitors in their high schools to show how important it is to serve others.
5) "Post-It Note project" where students in your ministry write encouraging post-it notes for each student in their high school and stick them to their lockers.
Check out the full YS Idea Lab playlist HERE.
By Youth Specialties on October 12 2014 | 0 Comments
---
By Jacob Eckeberger on October 09 2014 | 0 Comments

Every Friday we pull our favorite links from across the inter-webs. This week's trending links include 3 takeaways from NYWC, ideas of what to do after the big conferences, big motivation killers for any team, 3 emerging apps for students, and plenty of fuel for your procrastination.
Blogs From YouthSpecialties.com This Week
Coby Cagle (@CobyCagle) shared: "Two Questions to Ask Before You Plan a Mission Trip" - CLICK TO VIEW
Jonathan McKee (@InJonathansHead) wrote a really helpful perspective for small group leaders: "Why Won't They Listen? The Cry of the Small Group Leader" - CLICK TO VIEW
Blogs From Other Great Youth Workers This Week
The good folks over at Next Generation Journal (@NxtGenJournal) wrote a great post: "3 Takeaways from NYWC Sacramento" - CLICK TO VIEW
Justin Knowles (@justinknowles3) shared some great ideas over at @DownloadYM: "What Do You Do After The Big Conference" - CLICK TO VIEW
Rick Watson (@iamrickwatson) passed along a great reminder for anyone leading a team: "10 Biggest Motivation Killers & How to Fix Them" - CLICK TO VIEW
Adam Mclane (@mclanea) put together a good list to review: "4 Emerging Apps for High School Students" - CLICK TO VIEW
Carey Nieuwhof (@cnieuwhof) interviewd Kara Powell (@KPowellFYI) about: "Why young adults are walking away and what you can do about it" - CLICK TO VIEW
Fun Things To Fuel Your Procrastination
Alfonso Ribeiro did the Carlton on DWTS - CLICK TO VIEW
Danny Macaskill rides his mountain bike on the craziest mountain ridge - CLICK TO VIEW
Guy wipes out while skating and singing Canada's national anthem - CLICK TO VIEW
A baby adorably flexes with his dad - CLICK TO VIEW
An amazing stop-motion parkour video - CLICK TO VIEW
By Jacob Eckeberger on October 09 2014 | 0 Comments
---