Youth Specialties Blog
By Jacob Eckeberger on October 15 2014 | 0 Comments
Our hearts are still overflowing with encouragement from our time with youth workers at the National Youth Workers Convention in Sacramento. From October 2-5, about 2,000 youth workers poured into the Sacramento Convention Center for a weekend of prayer, inspiration, and seeking out what God might be illuminating in our hearts and in our ministries. Here are some highlights that are still resonating in our minds this morning…
Intensives kicked off Thursday afternoon with hundreds of youth workers talking through complicated topics like helping hurting kids, how to connect with students that have tough questions, walking with LGBT youth, building a healthy family and a healthy ministry, youth ministry management tools, thriving in your first two years of ministry, and helping students find a faith that lasts.
Thursday night, Mark Matlock shared 5 Reasons Why the Church Needs Youth Ministry. In those times of doubt, when you're wondering if the countless hours you're investing in the lives of students and families matter, you have to keep in mind just how important students are to the church and the impact they have on the body of Christ, Mark reminded us. If you weren't there, here's a link to another time when Mark shared the same 5 Reasons.
Then, the schedule kicked into full gear on Friday and included the first round of seminars, Idea Lab interviews, and family room gatherings.
Patrick Lencioni shared some incredible leadership insights during the Big Room Friday Night. He challenged us to remember our responsibilities as leaders, how a healthy team includes difficult stuff like vulnerability, honest disagreements, and strong accountability. He made a great point that leaders have to love their teams enough to hold them accountable to their work. If we don't, we're missing opportunities to help our teams grow.
Brian Wurzell's team and our crew behind the sanctuary and chapel spaces did an amazing job leading us in worship all weekend, creating room for us to reflect and respond to every moment of NYWC.
Saturday morning, Kara Powell reminded every youth worker of the dangers of exhaustion, saying that "exhaustion is the new status symbol of youth ministry." There are so many good things that we can spend our time on, but the reality is that we can't do all of them. We will eventually have to turn down opportunities and block out times in our schedule to refuel, or we'll kill ourselves and our ministries. Every time we say "yes" to something, we have to be OK with saying "no" to something else.
All throughout the weekend, Crystal Kirgiss kept asking youth workers why youth ministry matters and what new, different ideas they had for involving youth in vital ministry. As always, the responses were remarkable and included some profound insights from participating youth workers.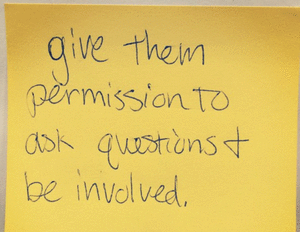 Francis Chan unpacked one simple question for us Saturday evening… What if our ministry was simply known for knowing Jesus? Francis reminded us that Jesus was the only one able to bring the dead to life. There is no game, program, dynamic speaker, or amount of pizza that can bring life to our students. This gave us so much hope, reminding every youth worker that no matter what limitations our ministry might have, if we work diligently to be known for knowing Jesus, God will do miraculous things in the lives of our students.
The late-night options continued Saturday night with amazing stuff like a live Download Youth Ministry Webshow and the powerful presentation of Laughter Is Sacred Space from Ted Swartz, which shared the struggles, heartache, and the ultimate hope found in the story of Lee Eshleman's life with bipolar disorder.
Sunday morning, James White wrapped up our Big Room sessions with a message about the hope we find in the lonely hours. When Jesus felt the weight of his calling, praying in the garden of Gethsemane for another way, he was experiencing a lonely hour. In the midst of our own lonely hours, Christ meets us there, he suffers with us, and he shows us that he never gives up on us. Every youth worker took a deep breath, remembering once again that Christ shows up to be with us even in our darkest moments.
If you were with us in Sacramento, it meant the world having you a part of this special tribe of youth workers and it would not have been the same without you. It is difficult to capture everything from a weekend like NYWC, but you'll enjoy some reminders in this short recap video.
If you're planning to join us in Atlanta, we can't wait to be with you, pray with you, and be encouraged alongside of you and your ministry. Haven't signed up yet? There's still time! Check out all the info for NYWC Atlanta HERE.
By Jacob Eckeberger on October 15 2014 | 0 Comments
---
By Youth Specialties on October 12 2014 | 0 Comments
In this YS Idea Lab, Neely McQueen interviews Josh Griffin about his 10 best youth ministry ideas from DYM. Even though they try really hard to get to all 10, they only hit 5... BUT those 5 are awesome ideas!
]
If you don't have time to watch all of the video, here are the highlights:
1) "Fact or Fiction" apologetics series with guest speakers in their entry level program that addresses tough questions about Christianity.
2) "You Own The Weekend" is a completely student led weekend of youth ministry services.
3) "Insta-Life" series that utilizes instagram and pulls out some key talking points that relate to our spirituality.
4) Have students buy pizza for the janitors in their high schools to show how important it is to serve others.
5) "Post-It Note project" where students in your ministry write encouraging post-it notes for each student in their high school and stick them to their lockers.
Check out the full YS Idea Lab playlist HERE.
By Youth Specialties on October 12 2014 | 0 Comments
---
By Jacob Eckeberger on October 09 2014 | 0 Comments

Every Friday we pull our favorite links from across the inter-webs. This week's trending links include 3 takeaways from NYWC, ideas of what to do after the big conferences, big motivation killers for any team, 3 emerging apps for students, and plenty of fuel for your procrastination.
Blogs From YouthSpecialties.com This Week
Coby Cagle (@CobyCagle) shared: "Two Questions to Ask Before You Plan a Mission Trip" - CLICK TO VIEW
Jonathan McKee (@InJonathansHead) wrote a really helpful perspective for small group leaders: "Why Won't They Listen? The Cry of the Small Group Leader" - CLICK TO VIEW
Blogs From Other Great Youth Workers This Week
The good folks over at Next Generation Journal (@NxtGenJournal) wrote a great post: "3 Takeaways from NYWC Sacramento" - CLICK TO VIEW
Justin Knowles (@justinknowles3) shared some great ideas over at @DownloadYM: "What Do You Do After The Big Conference" - CLICK TO VIEW
Rick Watson (@iamrickwatson) passed along a great reminder for anyone leading a team: "10 Biggest Motivation Killers & How to Fix Them" - CLICK TO VIEW
Adam Mclane (@mclanea) put together a good list to review: "4 Emerging Apps for High School Students" - CLICK TO VIEW
Carey Nieuwhof (@cnieuwhof) interviewd Kara Powell (@KPowellFYI) about: "Why young adults are walking away and what you can do about it" - CLICK TO VIEW
Fun Things To Fuel Your Procrastination
Alfonso Ribeiro did the Carlton on DWTS - CLICK TO VIEW
Danny Macaskill rides his mountain bike on the craziest mountain ridge - CLICK TO VIEW
Guy wipes out while skating and singing Canada's national anthem - CLICK TO VIEW
A baby adorably flexes with his dad - CLICK TO VIEW
An amazing stop-motion parkour video - CLICK TO VIEW
By Jacob Eckeberger on October 09 2014 | 0 Comments
---
By Youth Specialties on October 07 2014 | 0 Comments
We are so fortunate to know youth workers like Coby Cagle that are doing great work in youth ministry and are willing to share guest blog posts like the one below.

Original photo by Natalie Maynor.
School has started, fall programming has launched, and you're basking in the warmth of a summer of youth ministry that was well done. Congratulations—now it's time to rest, right? While I do believe we must schedule in seasons of rest for our minds and souls, the beginning of fall is not one of those seasons. It is already time to start planning for next summer's mission trip.
I'll address some practical mission trip planning tips in a future post. First, we need to set a good foundation for a healthy approach to mission trips. The following two questions are intended to make you did deep into your mission trip theology. At the end of the day, you want to make sure your good intentions do not hurt your students or the people you are serving.
What is my purpose?
Once I was on a mission trip to build houses in Mexico with 80 middle school students. I'll never forget this one, painful conversation that I observed. We were building a house for a woman and her family. The woman brought out a plate of tamales that she had made from scratch for our crew. The crew chief walked over to her and said, "No, no, no. We are here to serve you. We don't need anything from you."
The crew chief has a great heart and he had nothing but good intentions. But imagine how demeaning that entire process was for the woman we were trying to serve? We arrogantly believed that we had nothing to learn from the people were we serving. It is a dangerously wrong missiological approach that is present in most short-term missions projects.
Short-term mission trips can be a powerful experience for your group. However, if we aren't careful, our good intentions may actually do the Gospel disservice by demeaning the community and damaging the culture.
Mission trips that I lead have four main purposes:
- Expose students to injustices locally and globally.
- Equip students with tools for a Gospel-driven response to the injustices.
- Pour resources into local ministries that are working to fight the injustices.
- Create intentional gatherings for my students to build relationships.
What is my posture?
My friend Corey Greaves is a Native American who runs a youth ministry on the Yakama Reservation in Washington. Through his friendship and through his short-term missions program, S.L.A.M. Trips, Corey has taught me the importance of going on mission trips as servant-hearted learners. While God may use your group to do good things on the trip, your kids have much to learn from the people they are serving. Go as servants who listen.
After thinking through these questions, we decided to start calling our trips "service and learning trips." The new name accurately describes the philosophy behind the trips. Make sure your leaders, your students, and parents of your students understand your purpose and posture. This process will help ensure you're approaching your trip in a way that enhances the lives of your students and the people you are trying to help.
---
Coby Cagle lives with his wife and two kids in Seattle, WA. He is the Youth Pastor at Quest Church and you can follow his meanderings on faith, family, and life at caglejourney.blogspot.com/.
By Youth Specialties on October 07 2014 | 0 Comments
---
By Jonathan Mckee on October 05 2014 | 0 Comments
We are excited to share this post from Jonathan McKee, who was one of our speakers at NYWC Sacramento and we're thrilled to have him with us at NYWC Atlanta!

Original photo by Jonathan Powell.
I've witnessed it countless times—a small group leader desperately vying to keep the attention of their group. But the teens aren't interested.
"Why won't they listen?!!!" the small group leader demands.
Sadly, the answer isn't always one they want to hear. The fact is, the answer to their own question is this:
They aren't supposed to be listening. You are.
A Climate that Cultivates Conversation
Think about it. Why do we do small groups in the first place?
To preach at them?
Nope.
To break up their numbers so they are more controllable?
Okay… maybe a little.
The primary reason I break into small groups is to give everyone a chance to speak, processing out loud the subject at hand. Small groups are simply a tool where we can create a climate that cultivates conversation.
It's like this. Twenty kids watch a creative YouTube clip. A leader says a few words from the front of the room, then pronounces, "Okay, let's divide into small groups and discuss this."
This is our cue. As small group leaders, this is our turn to ask very good questions… and shut up!
They talk… we listen.
A Common Misconception
Sadly, this rarely happens. Most of the time, kids plop down in a circle and the leader begins talking, and talking… and talking…
I see this happen at camps where I speak every year. The camp director asks me, "Can you provide small group questions for our counselors to use when you're done talking?"
I provide questions, I finish speaking and everyone divides to small groups. That's when I always notice it. I walk around and plant myself like a fly on the wall watching and listening to these small groups. Here's what I observe more often than not:
The small group leader begins lecturing about the topic at hand.
Kids start to get bored. You can see them physically fading, leaning on their hands and falling asleep. They've just finished listening to me speak, and now they're being forced to listen to a second sermon.
The leader gets frustrated. "Why won't they listen?"
Don't blame these small group leaders. It's not their fault.
It's our fault.
As leaders of the ministry, we need to train and equip our leaders to ask good questions that cultivate conversation. We need to train our leaders to actively listen, encouraging kids in their answers and learning more about them as they share. We need to train our leaders to stop talking so much.
Duct Tape
This fall I teach a workshop at the National Youth Workers Convention titled, Leading Small Groups… Without Losing Your Mind (Sacramento and Atlanta). In this fun little workshop I provide small youth workers with 5 basic tools that will help anyone leading a small group.
In that workshop, the first tool I provide is Duct Tape…. to place over our own mouths.
They always get the point.
Small groups are an opportunity to convert our lecturing into listening.
Small groups provide us with a chance to move from monologue to dialogue.
Do you use small groups as an opportunity to cultivate communication?
---
Jonathan McKee is the author of over a dozen books like the brand new Get Your Teenagers Talking, Connect, and the 10-Minute Talks series. Jonathan speaks to and trains leaders worldwide, and provides free resources on his website. Get a regular dose of Jonathan from his insightful blog. Hear Jonathan speak at NYWC Atlanta.
By Jonathan Mckee on October 05 2014 | 0 Comments
---
By Jacob Eckeberger on October 02 2014 | 0 Comments

Every Friday we pull our favorite links from across the inter-webs. This week's trending links include some encouraging words for women in ministry, things to know when starting in ministry, prioritizing volunteers, dangerous distractions, and plenty of fuel for your procrastination.
Blogs From YouthSpecialties.com This Week
This week, we shared a sneak peek at the new movie staring Reese Witherspoon "The Good Lie" - CLICK TO VIEW
25 Txt Msgs You Can Send To Your Students - CLICK TO VIEW
FREE DOWNLOAD from Audrey Assad for all of our youth workers headed out to NYWC - CLICK TO VIEW
Mike Langford shared some great thoughts on the Holy Spirit: "Spiritual Gardening" - CLICK TO VIEW
Blogs From Other Great Youth Workers This Week
Elle Campbell (@ellllllllllle) shared some great encouragement: "Words For Women In Ministry" - CLICK TO VIEW
Justin Knowles (@justinknowles3) shared a great post on Download Youth Ministry: "5 Things To Know When Starting In Ministry" - CLICK TO VIEW
Derwin Gray (@DerwinLGray) talks about how to Parent Your Child's Heart, Not His Actions - CLICK TO VIEW
Next Generation Journal (@NxtGenJournal) put together a solid checklist: "Do You Prioritize Volunteers? 3 Questions." - CLICK TO VIEW
Kevin Mahaffy (@revkevjr) pointed out this great post from Ron Edmondson: "Dangerous Distractions For A Pastor" - CLICK TO VIEW
Hashtags To Follow
This week is the National Youth Workers Convention in Sacramento, CA. Catch up on all the youth ministry wisdom in a convenient 140 characters by following the hashtag #NYWC - CLICK TO VIEW
Fun Things To Fuel Your Procrastination
Principal Joins Teen Who Wanted His Cat in His Yearbook Picture for the most amazing photo ever - CLICK TO VIEW
The internet responds to Ohio State Coach body-slam with fantastic images - CLICK TO VIEW
Will Ferrell, Chris Rock, and Kevin Hart Say Goodbye to Derek Jeter - CLICK TO VIEW
Crazy Teeterboard Flips - CLICK TO VIEW
Phillies Fans Make Fun of Craig Kimbrel - CLICK TO VIEW
By Jacob Eckeberger on October 02 2014 | 0 Comments
---
By Youth Specialties on September 30 2014 | 0 Comments
We are excited to share this post from Mike Langford and we're thrilled that he'll be at NYWC Sacramento!

Original photo by Lisa.
According to a 2012 study by the Pew Research Forum, more people than ever in the U.S. identify with no religion. The so-called "nones" make up a fifth of the national population, and that percentage rises to one-third of adults under age 30. In other words, in this country, the chances are increasing that, after graduating high school, adolescents will also "graduate" from their faith (if they had any religious commitment to begin with).
But all is not gloom and doom. Christianity is growing rapidly in the Global South and East. South America, Africa, and parts of Asia will soon boast a majority of the world's Christians if they do not already.
Why the disparity? Why is Christianity decreasing in the Global West, and increasing elsewhere? Some claim the answer is socio-economic, that development breeds secularism as certain needs become domesticated. Others claim that it is cultural, that the West is too focused on individualism and materialism to allow for transcendence. And I think that both of those answers hold merit. But I'd like to suggest a theological answer to this question.
The Holy Spirit.
The reason why Western youth – a microcosm of their larger culture – have less interest in Christian faith is because the God about whom they are told is uninvolved in their lives. It is a God who is distant. Predictable. Impotent. It is a God of principles and passivity rather than presence and power. In essence, it is a God who is not Holy Spirit. Meanwhile, in the non-West, Christians are very comfortable with understanding God as Holy Spirit, as a God who is radically active.
When we speak of the Holy Spirit, we are speaking of the notion that God engages us. I tell my students that when we say that God is Spirit, we are saying that "God is here doing stuff." Breathing vitality into lifeless clay. Blowing reconciliation across dead communities. Wildly upending our expectations. Restoring lives. Restoring the cosmos. Theologically speaking, the Holy Spirit is the "connective tissue" whereby creation – including you and me – becomes bound to the source of goodness and truth and beauty and justice. The Holy Spirit binds us to Jesus, and through Jesus, to one another. Succinctly, the Holy Spirit binds us to life itself.
So what happens when adolescents are led to believe in a God who is not Holy Spirit? They imagine a God who is, bluntly, lifeless. Or at least a Life to which we have no hope of connection. So, instead, youth seek other sources of life (sometimes even through the church), none of which are enduring and some of which are damaging. By the time they graduate high school, if an adolescent has not experienced in some way the presence and power of God, they will find little use in centering their identity on being a disciple of Jesus. And I can't blame them.
What's the way forward?
Well, what if we took out the middle man? What if, instead of thinking of youth ministry as a place for us to teach or lead or organize for God, we thought of it as making space for adolescents to relate to the Holy Spirit? Now, I am not saying that youth ministry does not involve teaching or leading or organizing. Rather, I am saying that the purpose behind our programming becomes different. Everything we do is making room to connect adolescents to the movement of God, to God's presence and power.
We youth ministers toil in a nursery of the Holy Spirit. We are not the gardeners (John 15:1). We are more like caretakers, custodians, making sure that the proper resources are at hand for the growth of the branches – light, space, water, nutrients. But we do not make anything grow, nor can we predict how that growth will happen, nor do we even really know what the full growth will look like. All we do is make room for the Spirit to work, put students in a position for God to breathe upon them, and then get out of the way. This realization is humbling and frustrating and freeing.
Of course, there are lots of ways for us to make this space, for us to create means by which youth can experience the movement of the Holy Spirit or realize the movement that has already happened, but that is a subject for another time. For now, let us just remember that if we want to help in the formation of generative faith in adolescents, we must help them to know God as Holy Spirit. And perhaps the very best way for that to happen is for us to know that for ourselves.
---
Mike Langford (Ph.D., Princeton Theological Seminary) is Assistant Professor of Theology, Discipleship, and Ministry at Seattle Pacific University and Seattle Pacific Seminary where he teaches doctrinal theology and spiritual formation and coordinates youth ministry education and training. Mike is also an ordained pastor and has been involved in youth ministry for 25 years. He lives in Seattle with his wife, Kelly, and their four kids, Hannah, Seth, Caleb, and Chloe. Hear Mike speak at NYWC Sacramento!
By Youth Specialties on September 30 2014 | 0 Comments
---