Youth Specialties Blog
By Patti Gibbons on September 17 2009 | 3 Comments
In May 2003, in a wealthy suburb north of Chicago, a mass of almost 100 high schoolers assembled in a forest preserve to observe a rite of passage that had been going on since the late '70s—the junior vs. senior girls' touch football game. During this annual ceremony, the senior girls initiate the junior girls into their final year of high school. However, this year, rather than tossing a football around, it was pig intestines, fish guts, paint, and animal feces that were tossed all over the juniors. A home video of the event caught some spectators hoisting cups of beer while watching the girls get punched, kicked, and choked. At the end of the day, five young women were hospitalized— one with a broken ankle and one receiving 10 stitches.
By Patti Gibbons on September 17 2009 | 3 Comments
---
By Patti Gibbons on September 17 2009 | 2 Comments
"A number of questions emerged for our ministry team. How can our kids grow toward a mature, adult form of faith if their images of adulthood are so vague and negative? Don't we as a church need to help them develop a faith that can accompany them into adulthood?"
By Patti Gibbons on September 17 2009 | 2 Comments
---
By Patti Gibbons on September 17 2009 | 0 Comments
When did you first feel like you were a man? Was there a moment when you thought: I guess I'm grown up now? Are you still waiting for that moment? When did your father start thinking that you were a man?
By Patti Gibbons on September 17 2009 | 0 Comments
---
By Patti Gibbons on September 17 2009 | 0 Comments
Adolescence is a complex blend of childhood and adulthood. As teenagers' thought processes become more sophisticated, youth workers still should be sensitive to a kid's need to be a kid.
By Patti Gibbons on September 17 2009 | 0 Comments
---
By Jeremy Del Rio on September 16 2009 | 0 Comments
The comment below was published along with a feature article called "Going Public" in the Sept/Oct 2009 issue of
Outreach
magazine, and challenges churches and youth groups to think differently about Campus ministry. How is your youth group engaging the public high schools nearest your church this year? (Download the article
pdf here
.)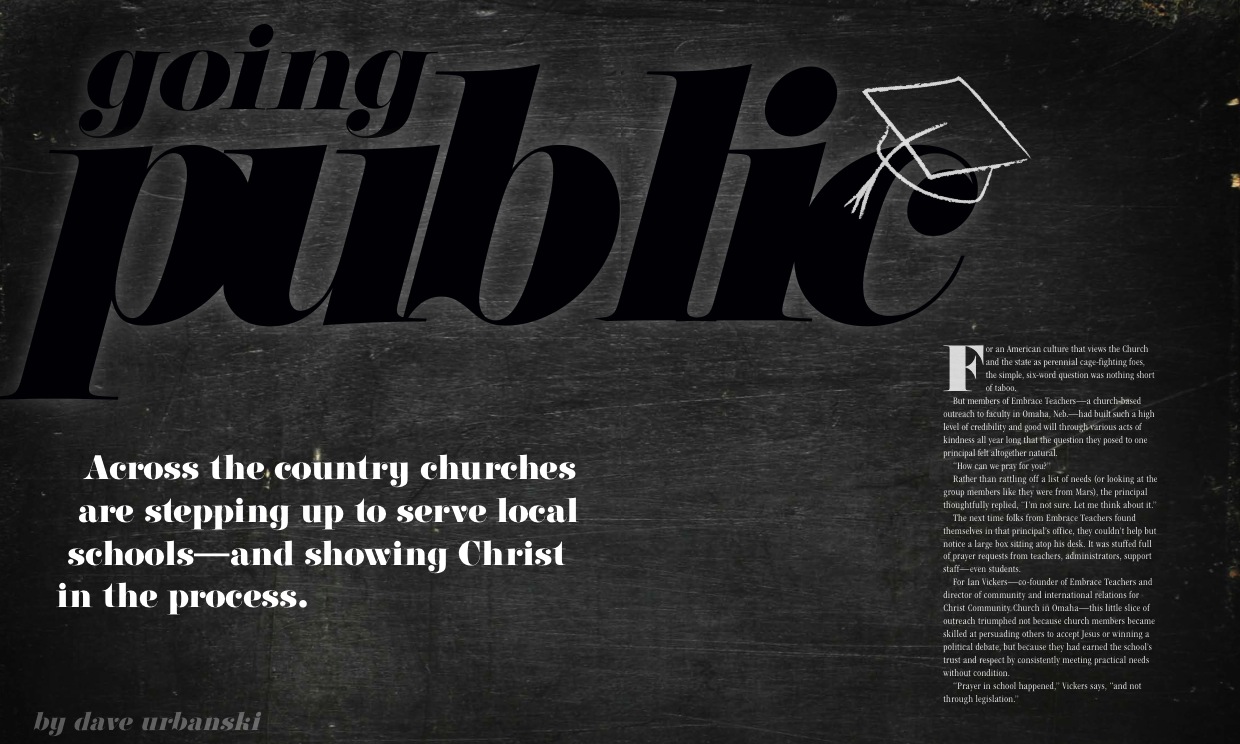 In September 2008, Jeremy Del Rio launched 20/20 Vision for Schools in New York City with one idea in mind: What would happen if church leaders activated the people in their churches for "good deeds" within public schools? Since then, the ministry has connected with nearly 200 churches throughout NYC boroughs, mobilizing them and community groups to come alongside public schools for meaningful advocacy and service. Here, Del Rio shares how 20/20 Vision has succeeded and why he believes churches are called to this backyard mission field.
If the moral test of a society is how it treats children, America has failed the same test year after year for decades. Specifically, we have failed to educate the urban poor despite promising equal access to quality education for all. This educational inequity--where the place of one's childhood determines the quality of one's education--has been called our nation's greatest injustice and the Civil Rights issue of our day. And churches have watched it happen. As we looked at what it would take to accomplish comprehensive reform, we knew it would require multi-sector, collaborative strategies led by men and women willing to commit. And churches are uniquely positioned to lead this effort. First, the God we preach requires us to care about justice (Micah 6:8, Isaiah 61:1-8). The prologue to Proverbs 31's Wife of Noble Character describes the Bride of Christ at her most noble: "Speak up for those who cannot speak for themselves, for the rights of all who are destitute. Speak up and judge fairly; defend the rights of the poor and needy" (Proverbs 31:8-9). Second, Jesus activates us as salt and light, that the world "may see your good deeds and praise your Father in heaven" (Matthew 5:13-16). Salt that loses its preservative and flavoring effects–or remains inside the saltshaker of our churches--is useless. 20/20 Vision is bent on activating churches. Our vision is that first graders of September 2008—the graduating high school class of 2020—would reverse decades of chronic underperformance and graduate in record numbers, equitably across demographics and neighborhoods, with the skills and character necessary to achieve in life. Mobilizing congregations for scalable engagement requires a plan, and 20/20's school adoption paradigm moves congregations from no relationship to holistic, transformative relationships. It begins by committing to pray for a specific neighborhood school as often as the church prays. If America's 300,000 evangelical churches actually prayed for its 100,000 public schools, dare we expect God to answer? It continues as congregations overcome generational mistrust by cultivating personal relationships at the school. Next, churches become answers to prayer by responding to felt needs with meaningful acts of service such as beautification efforts or event sponsorships. Then they develop an ongoing presence by volunteering as coaches, mentors or tutors, or coordinating leadership clubs. Finally comes the credibility to affect policy both at the school and district level. To date, nearly 200 New York churches have adopted schools through 20/20. Together, these churches have open-sourced a multi-sector effort to transform education in America. Because the problems are too vast for one person, group or community to overcome on its own, sharing ideas, best practices, funding solutions, evaluation methodologies and reform strategies represents the best way to engage the best minds in transforming public education in this country. If it's "about the kids," 20/20 reminds us to share. And to lead. --Jeremy Del Rio ONLINE:
JeremyDelRio.com
;
2020Schools.net
Rev. Jeremy Del Rio, Esq. is the lead architect of 20/20 Vision for Schools.
By Jeremy Del Rio on September 16 2009 | 0 Comments
---
By Shawn Michael Shoup on September 16 2009 | 1 Comments
I just got back from a morning
FCA (Fellowship of Christian Athletes)
meeting at Central High School.  It was for the purpose of brainstorming and it was their first gathering of this school year -- a pre-launch meeting before the real launch next week.  And I've got to say, I'm really excited! I've been a student pastor in Rapid City for eight years and have been dreaming of a way to make it possible for our students to have a place to pray, worship, study God's word, and challenge/encourage each other to reach their peers on their very own school grounds.  There have been several "tries" over these years, and none of them seemed to really take shape or have much for momentum, especially at this school in particular. I've wanted this so badly because I was a part of one of these groups in my high school years.  It was so foundational in building my faith and learning how to make an impact in the secular
world around me.  It was also where I fell in love with my high school sweetheart and future wife!  That was back in '93... you do the math. Anyhow, all of this to say that even if the road has been hard for ministering to students on your campus, don't give up.  It is worth your
relentless pursuit
.  It is worth trying again and again and again to make it happen.  When Jesus challenged us to be disciples, that includes the world-changers that are sitting in school classrooms all around this country.  I'm so pumped to see what God does through these students this year! There were probably about 15 students at the launch meeting this morning, but the school has given us access to a whole theater, and we have students and leaders that have the vision and the passion to fill it.  We're totally going after it! If your school has been closed to campus ministry in the past, don't give up!
By Shawn Michael Shoup on September 16 2009 | 1 Comments
---
By Brooklyn Lindsey on September 15 2009 | 4 Comments
Ten reasons why I love (and hate) our annual youth lock-in: 10.  Seeing the student's  faces when they realize that they must "endure" a worship service before the real fun starts (did they actually think we would let 600 students have fun without hearing the Gospel first?) 9.  Watching them genuinely respond during the worship service, minds opened to Christ, calls to ministry felt, hearts broken...then five minutes later moshing each other in the blow up obstacle course. 8.  Eating enough pizza to meet my youth pastor quota each year, chances are I will eat more than one pie, just to stay awake...and midnight trips to Denny's sure do help the heartburn. 7.  Church van smells are wonderfully different-- liken to the smell of McDonald's fries mixed with dirty sock. 6.  Hugging students who are sweating before 10 PM with 8 hours still left on the clock. This is where the awkward side-hug rule becomes your glorious friend. 5.  Unlimited go-cart rides. It's not the go cart action that's my favorite, it's the inhalation of gas fumes all night long that keeps things exciting. 4.  The giant Ferris-wheel of prayer. Why prayer? Because all leaders are praying that no one is making out at the top when the thing breaks down for ten minutes. 3. Volunteers love lock-ins. It's like the purple heart of youth ministry for them. 2.  Burning red eyes keep us relevant...New Moon is coming out soon. But the number one reason I love (and hate) our annual lock-in is... 1.  The memories connect our students to our youth group for a long time (or scar them for the same duration). Either way, it's a night no one forgets and the  outcomes are definitely worth the five years of life I lose each year in spite of it.
By Brooklyn Lindsey on September 15 2009 | 4 Comments
---
Page 254 of 303 pages ‹ First < 252 253 254 255 256 > Last ›